Maloniai kviečiame Jus į Atvirą Lietuvos Konkūrų Čempionatą 2019, kuris vyks liepos 4-7 dienomis jojimo sporto centre "Audruvis", Ziniūnų kaime, Joniškio rajone.
Lietuvos Konkūrų Čempionatas grįžta su griausmu – žiūrovų, sportininkų bei jų palaikymo komandų laukia ne tik keturios dienos azartiško sporto, bet ir įvairios pramogos, nemokamas pasijodinėjimas ant Rodeo – buliaus bei "Rodeo Šou" klasė, šokėjų pasirodymai, vakarinė programa su DJ ir koncertiniais pasirodymais bei dar daugiau!
Nepraleiskite unikalios galimybės sudalyvauti!
PROGRAMA (atnaujinta 06-30)
ARKLIDŽIŲ PLANAS:
Teritorijos planas: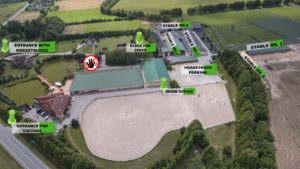 ___
We kindly invite you to Open Lithuanian Show Jumping Championship 2019, which will take place on 4-7th of July in equestrian centre "Audruvis", Ziniūnai village, Joniškis district.
Lithuanian Show Jumping Championship returns with a bang – spectators, equestrian riders and their supporting teams can enjoy not only four days of great sport but also various entertainment, like ride on Rodeo-bull for free, Rodeo-bull show class on Saturday, performances of dancers, evening program with DJ, concert performances and many more!
We are happy to announce that already three years in a row courses will be built by professional Szymon Tarant who just came back from CSIO5* Sopot and CSI4* Poznan!
Total prize money 16 200€!
Do not hesitate and join Open Lithuanian Championship 2019!
SCHEDULE AND REGULATIONS (updated on 06-30)
STABLING PLAN:
Territory plan: